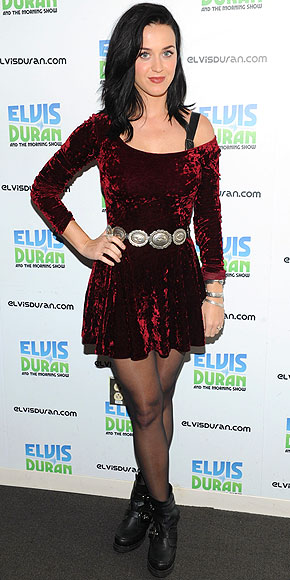 Katy Perry hit up the The Elvis Duran Z100 Morning Show in N.Y.C.yesterday to promote her upcoming album 'Prism'. Katy went full 90s grunge in a crushed velvet skater dress and moto boots. Check out pics and details on her outfit below.
Katy's crushed velvet dress features a wide neckline and an exposed zipper on the back. Its actually on sale now and can be purchased
here
.
Katy added a blue Japanese silk sukajan jacket which she also wears on the cover art for her new single 'Roar' from her upcoming album. Apparently Katy is going for a totally new look and sound.
I'm not a big fan of this outfit. I wish she would have ditched the belt and the black stockings but I have to say that I am loving all of these 90s inspired looks. Let me know what you think...is this look Dope or a Nope?